By: Brent Borgerson
January 25, 2012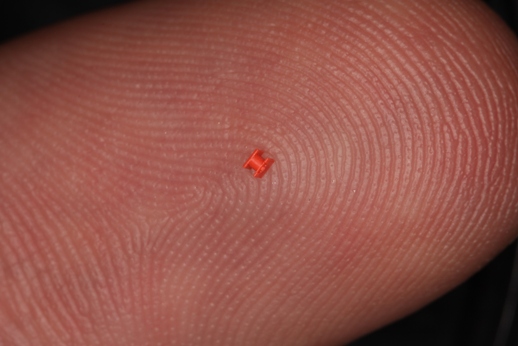 Matrix Plastic Products has been micromolding plastic parts since the mid-1990's, long before it was as prevalent as it is today. This pusher (shown) for a micro linear cutter cartridge is .031" x .040" x .040" and weighs just .0008 grams. Most of our micro projects are for the medical industry, for minimally invasive surgical applications in particular, but we also provide micro components used in the electronics industry. Weighing just fractions of a gram, some of these parts are smaller than a pellet of resin, with tolerances of five ten thousandths of an inch (0.0127 mm) or less.
I believe one of the main reasons we are not intimidated by projects like these is that we have our tooling expertise under the same roof. The close-tolerance and high precision of our molded products is rooted in our long history as a designer and builder of close-tolerance and high precision molds. Our strength in specialty tooling has proven to be a key factor in our evolution into the successful micromolder we are today.
Matrix Plastic Products builds most of our micro molds with cold runners and low cavitations (8 or fewer) because that combination makes it easier to maintain tight specifications. While mini hot runners are available, many of the resins we use in micromolding do not lend themselves to hot runner molding.
While almost any thermoplastic resin can be used in micromolding, Matrix Plastic Products commonly uses high-flow, high-temp grades such as LCP, PEEK and PEI. These materials have predictable shrink, and the high mold temps involved help flow, especially in very thin-walled parts. They also exhibit superior end use properties such as strength, stress crack resistance, thermal stability and dimensional stability.
Yes, much of our success in micromolding can be attributed to our mold construction which must be tight and precise, well supported and robust. I asked Steve, one of our experienced moldmakers at Matrix (but who was new to micro moldmaking) what the key to his first successful micro mold was.  "Trusting our equipment," he replied.  Matrix employs only state-of-the-art CNC moldmaking technology.
However, we also subscribe to scientific molding practices. With a part that you can barely see, it is next to impossible to fill to 95% before transferring; but many other aspects of systematic/scientific molding are rigorously applied here at Matrix. I will discuss "Scientific Micromolding" in a subsequent blog.
Matrix Plastic Products operates both hydraulic and electric presses in the smaller size ranges, and it is essential that the molding machine be sized according to the job at hand. But for micromolding, we prefer the electric machines with their inherent precision and repeatability.
On jobs where the actual finished part is barely much more than an add-on to the sprue and runner, not only is the tooling critical, but the quality assurance can also be very demanding. Here again, Matrix meets the challenge. Our OGP metrology systems are multi-sensor, so we can perform vision, touch probe, and laser inspections on the tiniest of parts. Additionally, our increased usage of CT scanning technology enables us to perform comprehensive First Article Inspections in a fraction of the time they used to take. And our Vision Engineering video microscopes are a common sight not only in our QA lab, but in the molding, cleanroom and tooling areas as well!
We don't "sweat the small stuff."  Matrix Plastic Products has the equipment, know-how and experience to successfully handle any micromolded project. We're always happy to offer our insight into yours.