By: Tom Ziegenhorn
September 28, 2012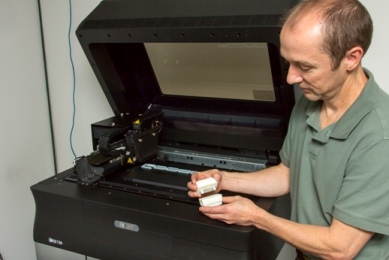 Recently, Matrix purchased an Objet30 3D printer for our mold design & engineering department. Adding this in-house capability is very much in keeping with the way our company conducts its business: we try do most everything in-house, including designing and building our own molds.  So having a 3D printer allows us to offer in-house rapid prototyping services to our customers, 70% of whom are medical device OEM's who rely on us to help bring their cutting-edge products from concept to reality.  Now we can produce 3D printed prototypes from a customer's data model within hours versus the typical three- to five-day wait time for an outside service. 
Providing physical part samples you can hold in your hand is a value-added service and especially helpful during the R&D phase of a new project, particularly when very small, complex parts, overmolded components, assemblies, or secondary operations are involved.  It's really beneficial for both our customer and us.  Everyone gets a much clearer view of the project, and we can experiment with ideas of how to make things better, faster and more economically.
Additionally, we are using this technology to produce fixtures for inspections and secondary operations, instead of conventionally machining them.