By: Paul Ziegenhorn and Anne Ziegenhorn
June 18, 2018
Back in 2003, our first significant takeover program at Matrix Plastic Products was a re-shoring transfer for a major global medical device OEM. We had only limited dealings with this customer until that time, but they contacted us when they were struggling with a very sporadic and unpredictable supply of molded product from their off-shore partner. Not only were their shipments to the U.S. delayed on a regular basis, but they were also battling numerous quality issues and high scrap rates on this program. Suffice to say, the lure of low cost tooling and production had worn thin.
By quickly building and qualifying low-cavity tooling in-house, Matrix was able run enough production to keep a stream of parts flowing, which bought time for the transfer of six tools to the States. Once these molds arrived at our facility, they were disassembled and diagnosed by our tooling staff. We repaired damage, made mold modifications to enhance performance, and ran production using these refurbished off-shore tools for the next two years.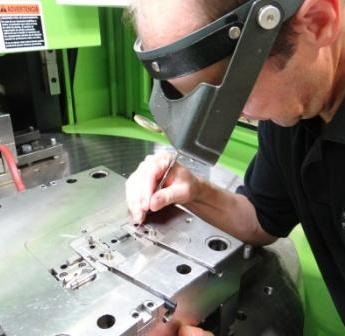 In the meantime, the customer's demand was increasing and production was ramping up, so we submitted proposals for high-cavitation hot runner tools. By amortizing a portion of the tool cost into each part, we helped them to justify their investment by demonstrating the payback would take less than 15 months. Two other benefits of the faster hot runner tools were a dramatic drop in part prices, and the elimination of their previous quality problems. Bottom line: with Matrix covering the tool maintenance for the life of the program, the cost to the customer was both predictable and affordable.
Helping to identify and resolve the myriad of quality issues that often accompany troubled programs has earned Matrix many new customers and has led to double-digit growth in our production molding sales. A key advantage in managing transfer programs with takeover tools is our 40+ years of in-house moldmaking expertise. Upon receiving a transferred tool, our team of engineering, tooling, processing and quality experts thoroughly analyze the mold's capabilities to diagnose and verify the issues that plague it. Sometimes it's a poor mold design, inferior materials, or a substandard tool build that's to blame; other times it's a processing issue.
Whatever the cause, our goal in a transfer program is two-fold: Make the necessary repairs or replacement of tooling components quickly and re-qualify the tools to get them back into production with minimal disruption to our customers' delivery schedules; and Craft a game plan to provide the lowest total cost of ownership over the remaining lifetime of the program. Of course, each case is unique, but our recommendations will always have the customer's best interest in mind. Sometimes their money is better spent to repair the existing mold, other times a new mold with our guaranteed tool life and part quality may make more economic sense, all things considered.
We know customers only transfer existing programs when unexpected circumstances force them to.  At Matrix Plastic Products, we stand behind our reputation for quality, honesty, and a commitment to help make the transition as painless and stress-free as possible. We want our customers to feel that, in the long-term, bringing their program to Matrix was the best move they could have made.